Tracing Utopia Tracing Utopia Tracing Utopia Tracing Utopia
Catarina de Sousa and Nick Tyson, 2021

27', video and 8mm film, color, surround sound, spoken in English. Portugal. Distribution and sales by Portugal Film – Portuguese Film Agency.

SYNOPSIS
Tracing Utopia is an odyssey into the dreams of a group of queer teens in New York City as they envision a better world. Directed by Catarina de Sousa and Nick Tyson, this short documentary imagines a form of queer community transcending time, through glimpses of a utopia made manifest in the streets, in community spaces, and online. A collaborative manifesto weaves these pasts and futures together--calling for the change that queer youth strive for today: "As queer teens in Queens, we demand this in order to build a better world."

Tracing Utopia premiered at the Rotterdam International Film Festival. It was the winner of the Best Narrative Short Film Award at the Kashish Mumbai International Short Film Festival and had a Special Mention from the Casa Comum Award at Queer Porto both in 2021, and a Special Mention at Porto Femme in 2022.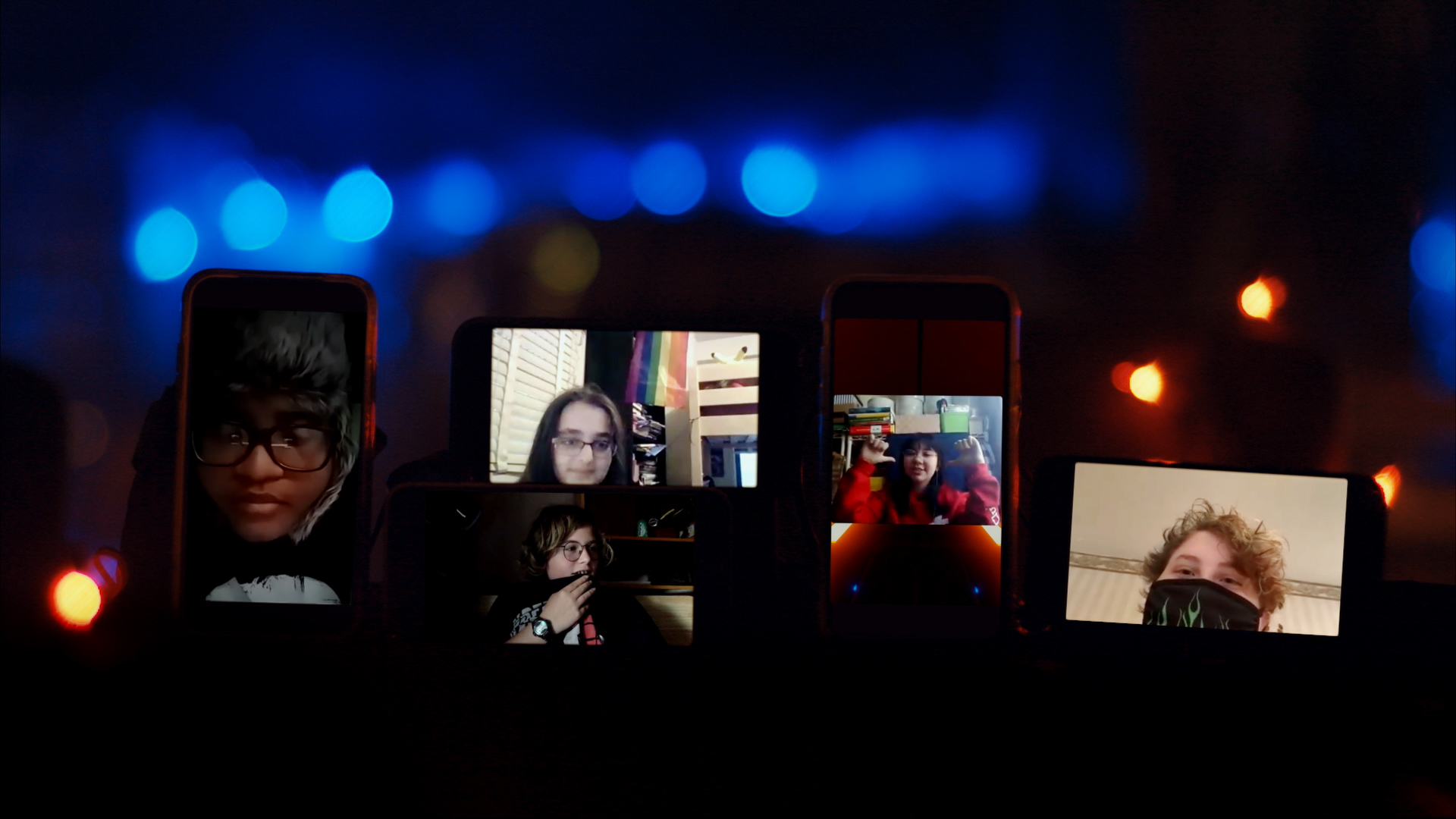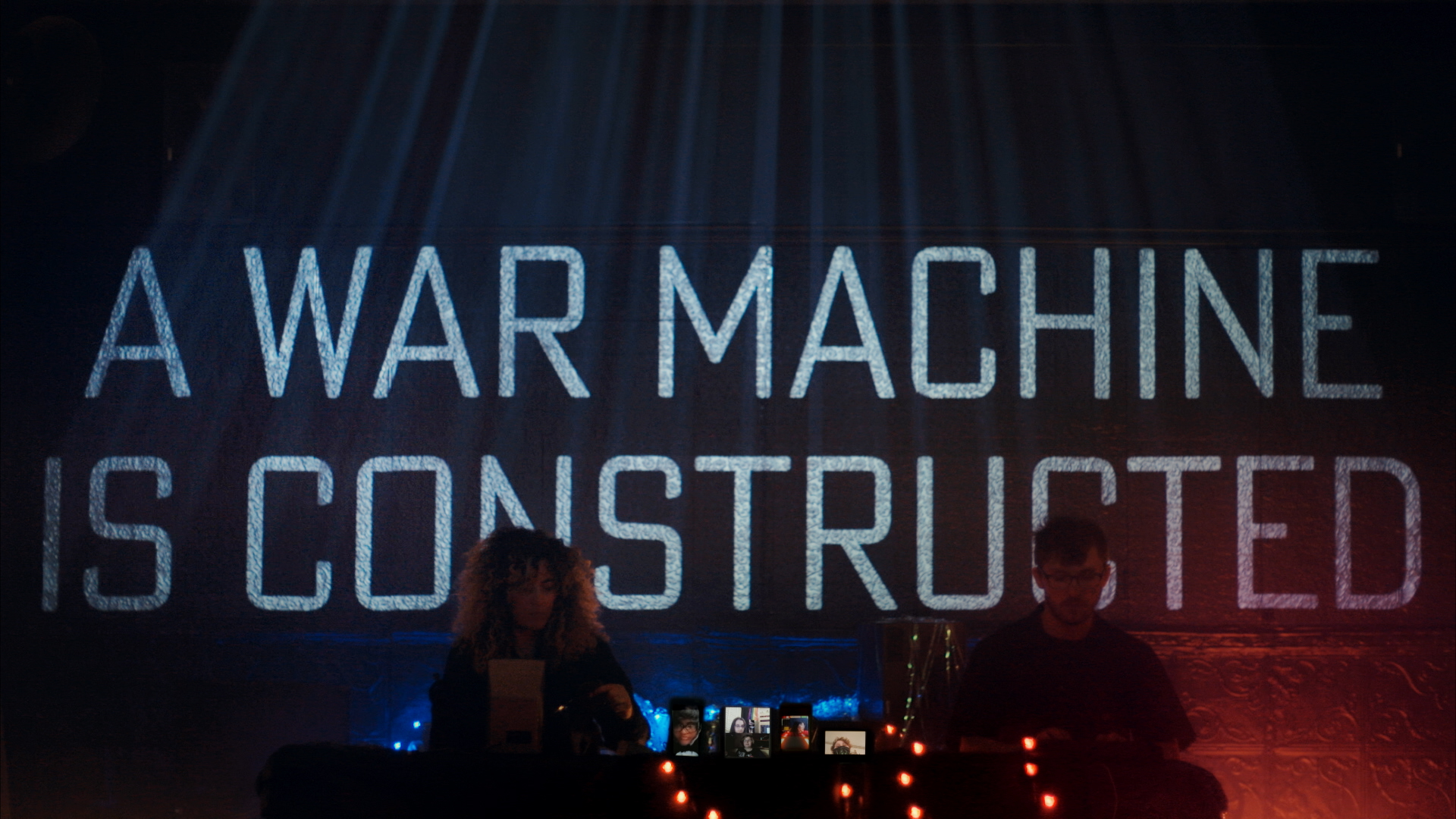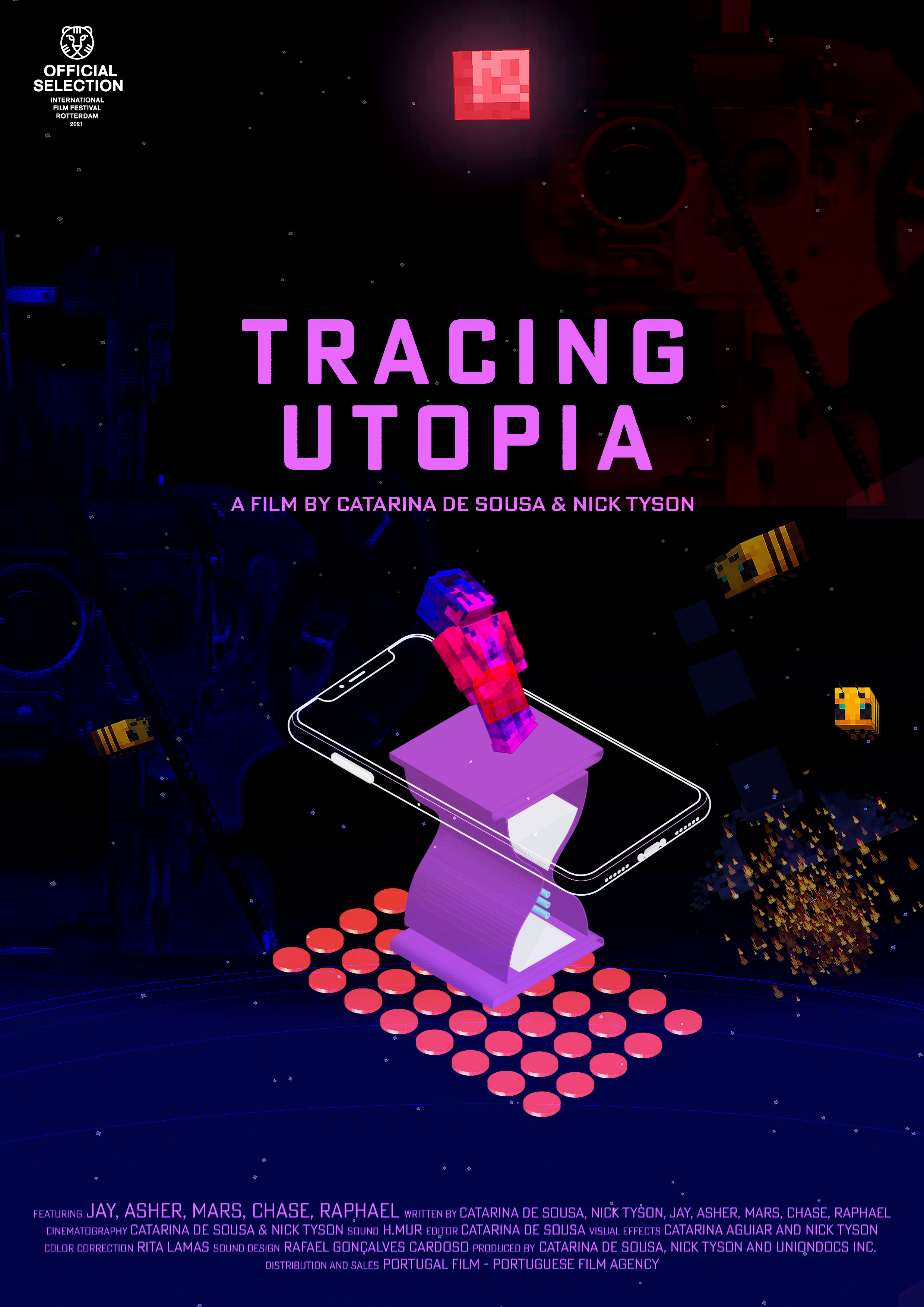 CREDITS

Written and directed by Catarina de Sousa and Nick Tyson, with Asher, Chase, Jay, Mars, Raphael
Cast Asher, Chase, Mars, Jay, Raphael, Julia, Lindsey
Cinematography Catarina de Sousa, Nick Tyson
Sound Recordings H. Mur, Rafael Gonçalves Cardoso
Sound Mix Rafael Gonçalves Cardoso
Editing Catarina de Sousa
Producers UnionDocs, Catarina de Sousa, Nick Tyson
Produced by Foi Bonita a Festa
With the kind support of UnionDocs
Camera Assistant Hõbe Ilus
Art Assistant Daniel Monello
Art Direction Advisor James Bartol
Visual Effects Catarina Aguiar, Nick Tyson
Color Correction Rita Lamas
Graphic Design Catarina Aguiar
Executive Artistic Director Christopher Allen
Producer of Labs and Workshops Martine Granby
Assistant Artistic Director Jenny Miller
Mentor Tara Mateik
Minecraft Constructions Asher, Chase, Julia, Lindsey, Mars, Raphael, MrGarretto
Super 8mm Footage "Queer Liberation March" NY, 2020
Film and Revealed by Catarina de Sousa at MONO NO AWARE
Supported by Calouste Gulbenkian Foundation
Music "Life on Mars?" by David Bowie and "Touch-Tone Telephone" by Lemon Demon


Text adapted from The Unavowable Community by Maurice Blanchot and "Changes" by David Bowie

UnionDocs Team
Special Projects Director Alison S. M. Kobayashi
Programs Assistant Abby Lord
Operations Assistant Juan Pedro Agurcia

2020 UnionDocs Collaborative Studio Artists
Nundrisha Wakhloo, Hõbe Ilus, Nick Tyson, Bronte Stahl, Elijah Stevens, Liyan Zhao, Milton Secchi, Catarina De Sousa, Amir Shams, Xen Nhà, Hilo Mur, Lindsay Skedgell

Special Thanks
Caitlin Mae Burke, Cecilia Aldarondo, Kellen Quinn, Sophia Nahil Allison, Ephraim Asili, Mary Helena Clark, Penny Lane, Derek Howard, Zack Khalil, Dan Rosato, Madeleine Hunt-Ehrlich, Kazuhiro Soda, Brett Story, Su Friedrich, Christopher Harris, Eric Hynes, Roger W. Beebe, Carlos A. Gutiérrez, Ted Kennedy, Jackie Goss, Courtney Stephens, Leo Goldsmith, Toby Lee, Sean Boyd - Art Farm Recording, Lindsey Duel, Julia Peitzer, Carson Parish, Brian Lewis, Jean Sonderand, Julian Donaghue, Sharang Biswas, Carlos Maria de Sousa, Maria Teresa da Cunha Guimarães, Lian Andrade, Zara Pinto Coelho, Maria Conceição de Sousa, Constança Urbano de Sousa, Luís Urbano, Jacinta Aguiar, Mariana Silva, Pedro Neves Marques, UnionDocs Board of Directors, UnionDocs Advisory Committee, UnionDocs Collaborative Alumni








FILM FESTIVALS

IFFR | International Film Festival Rotterdam, The Netherlands, 2021 (premiere)

BFI Flare: London LGBTIQ+ Film Festival, UK, 2021

É Tudo Verdade, Brazil, 2021

International Short Film Festival Oberhausen, Germany, 2021

Vienna Shorts - Vienna Independent Short Film Festival, Austria, 2021

Hamburg Short Film Festival, Germany, 2021

Mo&Friese Children's Short Film Festival Hamburg, Germany, 2021

Istanbul Pride Week - Pera Museum, Turkey, 2021

Kyiv International Short Film Festival, Ukraine, 2021

DevolvidDe, Mexico, 2021

XPOSED Queer Film Festival Berlin, Germany, 2021

MIEFF - Moscow International Experimental Film Festival, Russia, 2021

Kashish Mumbai International Short Film Festival, India, 2021 (Best International Narrative Short Award)

IndieLisboa International Film Festival, Portugal, 2021

Queer Porto, Portugal, 2021 (Special Mention from the Casa Comum Award)

Shnit Worldwide Short Film Festival, Switzerland, 2021

Uppsala Short Film Festival, Sweden, 2021

Belo Horizonte International Short Film Festival – FestCurtasBH, Brazil, 2021

FRONTDOC, Italy, 021


Fringe! Queer Film & Arts Fest, UK, 2021
Festival Mix Brasil de Cultura da Diversidade, Brazil, 2021
Kasseler Documentary Film and Video Festival, Germany, 2021
KFFK / Kurzfilmfestival Köln, Germany, 2021
Dialogues Film Festival, India, 2021
Pravo Ljudski Film Festival, Bosnia & Herzegovina, 2021
Fotomuseum Antwerpen: FOMU, Bélgica, 2022
Massimadi : Afro LGBTQ+ Film & Arts Festival, Canada, 2022
jfc Medienzentrum, Germany, 2022
Glasgow Short Film Festival, United Kingdom, 2022
Festival Política, Portugal, 2022
Taiwan International Documentary Festival, Taiwan, 2022
FILMMAKING FOR SOCIAL CHANGE, Spain, 2022
La Fête du Slip, Switzerland, 2022
Short Waves, Poland, 2022
Anthology Film Archives, USA, 2022
Kinemastik International Short Film Festival, Malta, 2022
Porto Femme, Portugal, 2022 (Menção Honrosa da Competição XX Element)
Helsinki International Film Festival - Love & Anarchy, Finland, 2022
International Film Festival BRNO16, Czech Republic, 2022








SCREENINGS
HOME, Manchester, Reino Unido, 2022
Arquipélago, Ilha de São Miguel, Portugal, 2022
Pinchuk Art Center, Kiev, Ucrânia, 2021








PRESS

---
---
---
---